I have just handed in the paper part (and the reason for my cave life style the past two weeks) of my Master project. Boom: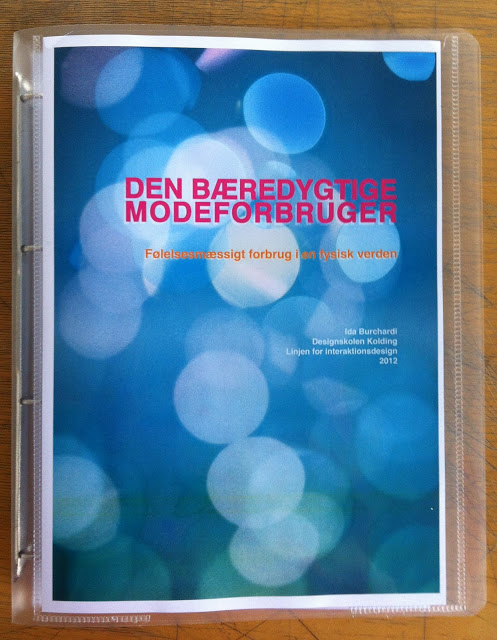 The Sustainable Fashion Consumer
– Emotional consumption in a physical world
This paper aims to contribute to a better understanding of young female fashion consumers relationship with their clothes and thoughts about sustainability.
The study approaches the field research about young female consumers fashion consumption from a grounding in theory a.o. about 'Fast Fashion' by author and consultant Kate Fletcher and 'needs' by economist and environmentalist Manfred Max-Neff. In addition to this field is a sociological point of view on how different generations have different needs. Another key subjects is research about why people buy, and how this agrees with the ethical initiatives made by the fashion industry.
Looking at the rise of sustainable fashion, this article is also looking at the paradox in consuming ethical fashion
from a retailer that is operating within a business model, that arguably is the root cause of unsustainability
in terms of fashion consumption.
The theory is supplemented by a recent report by the NICE Consumer project that aims to lead consumer behaviour toward more sustainable fashion consumption, covering the purchase, use, care for and disposal of fashion goods and accessories.
In addition to the theoretical insights is a comprehensive research study of female fahion consumers between 13-50 years, which concludes that eventhough consumers plays a pivotal role in the fashion industry's ethical journey, the respondents general ethical thoughts, for example in terms of buying ecological food, does not transfer to their fashion consumption routines: They have very little or no knowledge of the fashion industry's ethical initiatives, and the differentiation paradox within fast fashion prevents them from making ethical decisions in purchase situations. This paper suggest ways to create a stronger and more transparent dialogue between the industry and the consumer, and through that, raise awareness about clothing as a means to, not only attach us to the present, but also to the future.
Keywords:
fashion, sustainability, ethical, consumer, eco-clothing, eco-fashion, needs, attitude-behaviour gap, sefish giving, the differentiation paradox, fast fashion, the nice consumer, Copenhagen Fahsion Summit 2012.